Literary Greetings from East Sussex!
12/01/23 What a year 2022 was – for everybody. Things are simmering down here, after a fairly major crisis or two, and I hope to be back on track for a poetic 2023. I wish you all a rewarding one.
20/9/22 Autumn Update
I'm delighted to report I'll be reading in Galway on the 29th of September! — as well as joining poets musicians in Hastings on the 23rd of October. [For more details, http://annerouse.com/events/ ]
28/8/22 "Uncertain Ode"
Written after the Trump victory, revised during the war in Ukraine, and recently filmed. One minute long, it should be added!
https://www.youtube.com/channel/UC4Cdu3YgrOXRBaMvojTK-iw
24/07/22 Hastings Ox-Eye Launch
The in-person launch for Ox-Eye will be this Thursday the 28th in Hastings. You're invited! It will take place at the Hastings Bookshop on Trinity St., off Robinson St. at 7 pm. Wine and merriment. [For more details see the Events section of this website.]
24/07/22 First Ox-Eye Reviews!
Extremely pleased at the first UK reviews for Ox-Eye, two poetry bloggers/critics/poets responding quickly with no loss of quality (quite the contrary!)
The first is by Ian Gouge:
https://www.goodreads.com/author/show/347565.Ian_Gouge/blog?page=1
The second is posted on the poetryparc website:
https://poetryparc.wordpress.com/
15/07/22
Paradox Literary Journal
So pleased to be part of the sumptuous-looking Paradox literary journal, just launched this week. Congratulations all round. Their maiden issue highlighted…maidens! They reprinted a poem of mine about Lot's wife, "Ildeth in Bela". (More than one poet has dealt with this theme, but I'd like to think it's a new spin) That little poem kept excellent company at Paradox – and a big welcome to them – amongst offerings by Alice Stainer, Tessa Foley and Stuart MacPherson.
23/06/22
Bloodaxe Zoom Launch
Ox-Eye is out, published and launched! The Bloodaxe Zoom discussion on Tuesday over-ran a bit because publisher Neil Astley said it was going so well he didn't want to interrupt it. My fellow poets were Thomas Lynch of Eire & Michigan, and Andre Naffis-Saheley of London & California. We commemorated Tony Hoagland, whose new posthumous collection was also being launched.
09/06/22
Coming soon! The Bloodaxe Zoom launch for Ox-Eye and other June releases. See http://annerouse.com/events/
The Friday Poem website, edited by Hilary Menos, is a trove of poetry reviews, articles, and –a Friday poem. Recently, as a Desert Island castaway (hugely chuffed at that) I wrote about what I'd take along when shipwrecked: poems by H.D., Anonymous and Yeats. https://thefridaypoem.com/castaway-anne-rouse/
30/05/22
Hello, poets, vagabonds & poetry people! Do keep in touch on Twitter if you're over that way, @rouseanne.
A lot to catch up with. For a start, the first-ever issue of the UK-based Degenerate Art: new literary writings (incl. a poem of mine) on art, alongside luscious artwork. https://thisdegenerate.art/current-issue/
As a poet I find short stories enticing. All that space to write in! It could get addictive. "Fill the Earth", a bit of poetic sci fi, has appeared in Mercurius, the edgy and stylish arts, literary and current events journal. https://www.mercurius.one/ (May 11)
Militant Thistles, a safe haven for political poets, founded by the inimitable Alan Morrison, is well worth supporting. (There are two of my poems, not in the current book, on the website.) https://www.militantthistles.com/
Finally, the book arrived, earlier than expected. (How often does that happen?) I had no idea what the parcel could be. Opened it and there was my new collection, Ox-Eye, with cover image by the incredible Annie Soudain, beautiful and shining…..https://www.bloodaxebooks.com/ecs/product/ox-eye-1299
11/02/22
The Poetry Foundation has re-released the audio recording of "Outcome", a short poem evoking a steamy encounter in a railway waiting room, read by the distinguished Broadway and film actor, Dana Ivey.
https://www.poetryfoundation.org/podcasts/75001/outcome?page=66
And a new mini-review's up, in Lit Crit in these pages: Elizabeth Barret Browning's pacy verse novel, Aurora Leigh.
04/02/22
"Fixed Star", short fiction, appears in the current issue of Variant Literature (USA). https://variantlit.com/fixed-star/
18/01/22
Launching today, the Lit Crit section of this website. First up: a novel about Shakespeare by the author of A Clockwork Orange.
09/01/22
From Twelfth Night to Burns Night: 20 Poetry Questions
As a kick-start to the new writing year, I ask a question a day on Twitter. @rouseanne.
01/01.22
Happy New Year, fellow poets and readers! May your writing and submissions go better than ever, and your reading, too.
A poem, "The Town" [see video news from 01/11/21] is now featured in the Guest Poets' archive at Acumen, the UK literary journal. https://www.acumen-poetry.co.uk/anne-rouse/
Moonrise 2021
12/11/21
"Moonrise 2021" has just been published in Acropolis Journal, here.
The Street (short story)
01/11/21
Published in Edinburgh-based literary journal, The Interpreter's House, edited by Georgi Gill, "The Street" is a surreal tale of a traveller's alienation in a foreign city, here.
01/11/12
Two new video poems are now out on Youtube :
"The Town", about a town's secret life. here .
"The Waves & a Bang", a dream-like seaside piece. here
[The poem The Town is based on can be found in the current print copy (issue 101) of Acumen, edited by Danielle Hope.]
Ox-Eye, out 23rd June 2022
09/09/21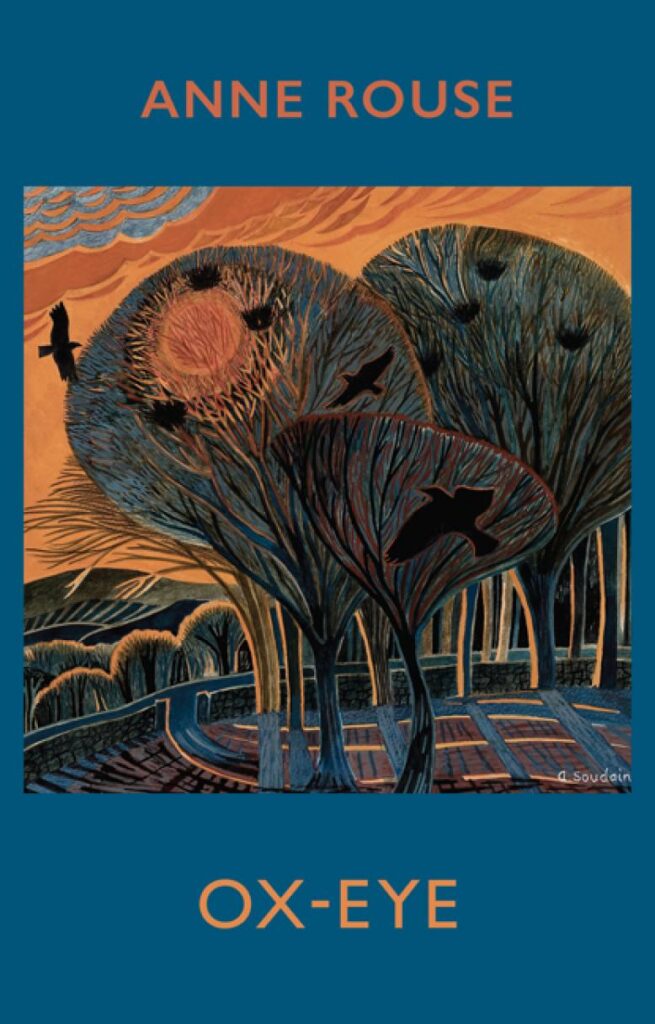 Anne Rouse's fourth full collection, her first in 14 years, will be out early next summer.
Ox-Eye deals with personal and social change (an ox-eye is is a small cloud prior to a storm), and will be published by Bloodaxe Books.
Pre-order here
Keep up to date
If you'd like to occasionally hear about future events and news, please sign up to the mailing list.
You can unsubscribe at any time.